Dogs and Cats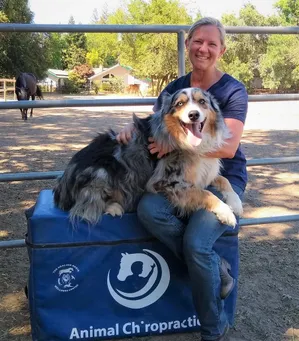 Can chiropractic help my dog or cat? This is a common question and the answer is yes!
The brain and spinal cord comprise the central nervous system (CNS) which controls every cell, tissue, organ and system in the body. The CNS is protected by the skull and the spine. When the spine is not moving or functioning properly, the signals from nerves may be distorted. Over time, this can lead to loss of mobility, stiffness, degeneration of joints, and pain. Chiropractic works by re-establishing and maintaining the connection between the brain and nervous system allowing improved function to occur.


Here are some signs your dog or cat should be evaluated by a certified animal chiropractor:
Refusing to jump up on couch or bed
Difficulty getting up and down
Puppy sitting with rear legs off to one side
Abnormal posture when standing
Evasive Maneuvers: dipping head or hollowing back when touched
Sensitivity to touch
Change in Behavior:
fear biting/hiding
Wringing or tucking tail
Exhibiting pain when taking off or putting on collar or harness
Facial expression of apprehension or pain
difficulty eating/refusing to eat
Some conditions your pet have may also be helped with chiropractic care:
limping




disc problems

slip and fall accidents

nerve problems

muscle spasms

allergies

ear infections

coat changes

maintenance of joint and spinal health
If you have questions as to why or how certified animal chiropractic care may help your dog or cat, give us a call and we will happily arrange for a telephone consultation.
Animal chiropractic works in conjunction with and does not substitute veterinary care.